Today's 
Final Girl Film Club
selection is Strait-Jacket, starring the one, the only, Miss Joan Crawford.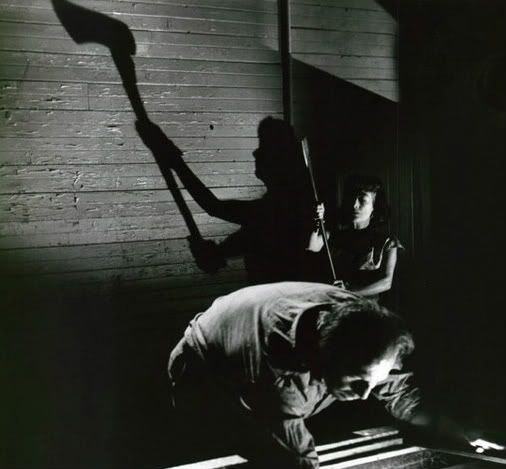 UPDATE:
Alas, I was correct, my DVD has not yet arrived.  My heart leapt with glee when I saw the Blockbuster wrapper in my mailbox on Saturday, because Strait-Jacket was next on the queue and "available".  It turned out to be Ultraviolet.
Ultraviolet, widely rumored to suck, was a few down in my queue - a third-string pick as I planned to watch it to compare to the 1998 UK television series of the same name, which I'd planned to watch because two episodes star Stephen Moyer, who is also the central vampire in HBO's new TrueBlood.  
That kinda took the fizz outta my soda.  I'm going to try not to peek at all the reviews at
Final Girl
 until I can watch the movie with all the extras, they sound essential!
FINAL UPDATE:
 I finally saw it and loved it so much I immediately purchased it for my collection.  However, beside mentioning that I really loved Diane Baker before seeing this film from Alfred Hitchcock's
Marnie
, I really don't have anything to add to
Stacie's review at Final Girl
.  As often is the case, she uncannily noted every favorite part I did, but wrote much more wittily about it. Can't improve upon perfection!
It turned out that the special features from the DVD were on You Tube after all (thanks to a so-called cuckoo-nutso Film Club Coolie).  Also on YouTube?  Episodes of the
UK tv series Ultraviolet
!  I didn't need to clutter up my queue with that after all!