"Some will be crowned, others will lose their heads..."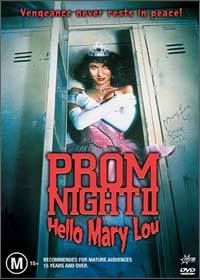 Prom Night 2: Hello Mary Lou
was released the October I turned sixteen, so I saw it in the theater and found it delightfully schlocky & ridikerous. Twenty years later, it's about due for another viewing.
We're not exactly looking forward to this part, but we plan to review
Prom Night 3: The Last Kiss and Prom Night 4: Deliver Us from Evil
in April as well.